How to Install Crown Molding with Indirect Lighting
Installing crown molding with indirect lighting gives you control of the vibe in any room. Control the scene with your voice, remote, or app while triggers on other conditions automatically control the lights. In this video I cover how to install crown molding with a gap where you can install light strips to provide indirect lighting. However, I do not cover the installation of the outlet at the ceiling in this video. Therefore, I recommend you consult with a licensed electrician if you need an outlet.
Video Chapters
Tools and Materials Used
This section outlines the list of tools and materials you'll need.
Tools Used
Tools and Materials used in this installation can be found here: https://amzn.to/3Jwykzs
Additional Tools used in this installation can be found here: https://amzn.to/3CHXveu
Painting Tools & Supplies used in this installation: https://amzn.to/3NLT34T
Lighting can be found here: https://amzn.to/3CKnFgJ
Miter Saw w/ Finish Blade
Pneumatic Finish Nailer
Angle Finder
Router
1/4″ Radius Rounding Over Router Bit
Saw horses (3 or more based on the length of your boards)
Tape Measure
Caulk gun
Studfinder
Paint Cup
Paint Brush
Caulking Tool Kit
Air Compressor
Air Hose
Drop Cloth
Ladder
Rolling Scaffolding
Quick Release Clamps
Materials & Supplies Used
3 3/8″ Crown Molding
1 x 3 x 8′ or longer pine boards based on your room size
White Painters Caulk
Paint (for molding)
Paint Cup Liners (less cleanup)
Paper Towels
Finish nails (compatible with nailer)
CA glue
CA glue accelerator
Four Blocks of wood (to be cut for references)
Pencil
LED Lighting
(2) 80″ Philips Hue Light Strips w/ Controller and Power Supply
(11) 40″ Philips Hue Light Strip Extensions
Smartphone for using Philips Hue app
Installation Instructions
Although preparation will take some time, the actual installation will go faster. Verify you can route an outlet to the ceiling then you'll know that you can easily install this. Once more, you may need to consult a licensed electrician. Before buying material, take measurements and plan your miter cuts for your molding. Calculate your list of materials and their lengths. While frugality is beneficial, purchase a little extra as you can return it at a later point.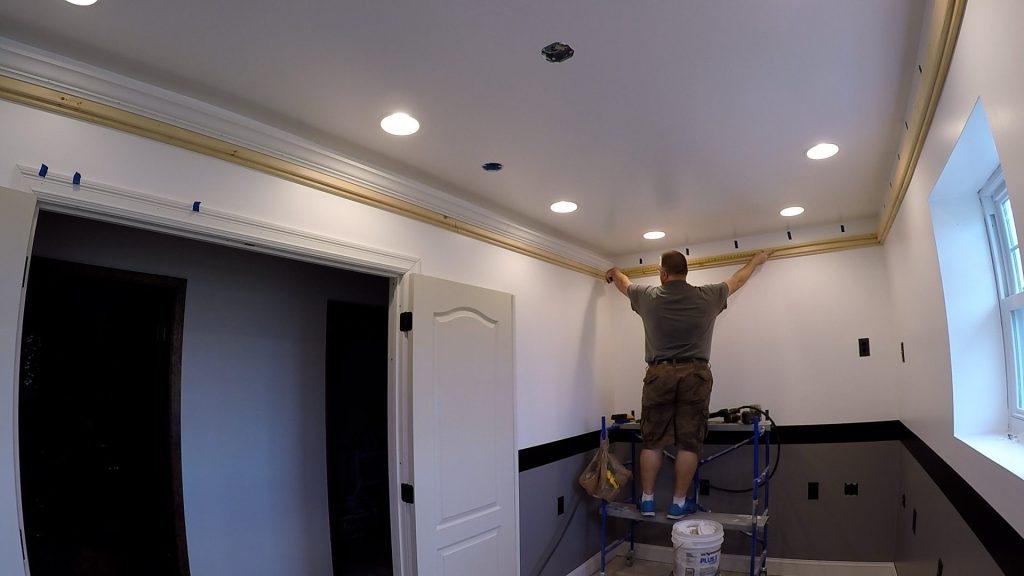 Original source of the photo is provided by U Do It, on YouTube channel U Do It.
Layered Molding
Before you make your first cut, make a measurement with your tape measure. When you do, also take note of the miter angles you need to make.
LED Lighting
Before you being, plan out your work. For example, this should include your cut list and a sketch of your room with your measurements.
1) Installation of the Philips LED shape lights requires a power source like I install in the video (shown below). Once you plug in the power supply from the Philips Hue Shape Lights Kit then connect the first shape light to it. You can connect up to six Philips 800292 Lightstrip Extensions to it. Certainly, you would want to verify that your outlet works prior to installing the crown molding. Adding too many extensions to a controller will overload it, therefore it will cause a noticeable hum or buzzing from the power supply. I didn't notice this when I only had 5. Since the room is a 60 foot perimeter I needed two kits (two power supplies and two controllers) and 11 extensions. I then continued to plug in each Philips Hue Shape Lights 2nd Generation 800292 Lightstrip Extension into the continuous line.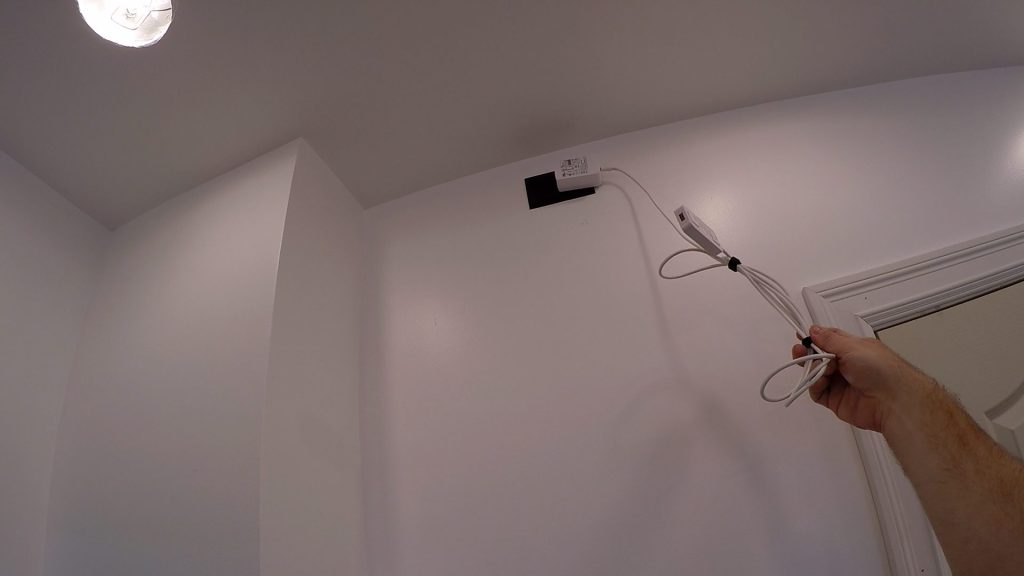 Original source of the photo is provided by U Do It, on YouTube channel U Do It.
2) Install the Philips Hue Bridge Kit (comes with 3 light bulbs) and download the Philips Hue app onto your phone. Follow the steps to establish connection to the bridge. The bridge will be able to communicate with the lights. The bridge will control all Philips Hue compatible devices. These include the Philips Hue Color A19 LED Bulbs that I installed.
Safety First
Please observe safety first behavior when doing this work. It is your responsibility to ensure that you are observing safe procedures while performing this activity. Additionally, if you do not feel comfortable performing this activity it is recommended that you consult with a licensed handyman or general contractor. Take all necessary precautions that you can consider, for example removing items out of the workspace that aren't needed. For instance, you may be using tools that all have risks so it may be best to consult with a licensed handyman or licensed contractor. Certainly, it is best to wear a respirator as being exposed to dust particles can be hazardous. Enough cannot be said about your safety awareness while you are in your work area. Remove any obstacles that can be trip hazards. Consult safe operation of a ladder and be aware of your surroundings, such as doors that can open.
If you are interested in other U Do It articles like this one you can see them here.
This article on LED light strips may interest you: Improve the Vibe of your Home with Philips Hue LEDs
Picked out for you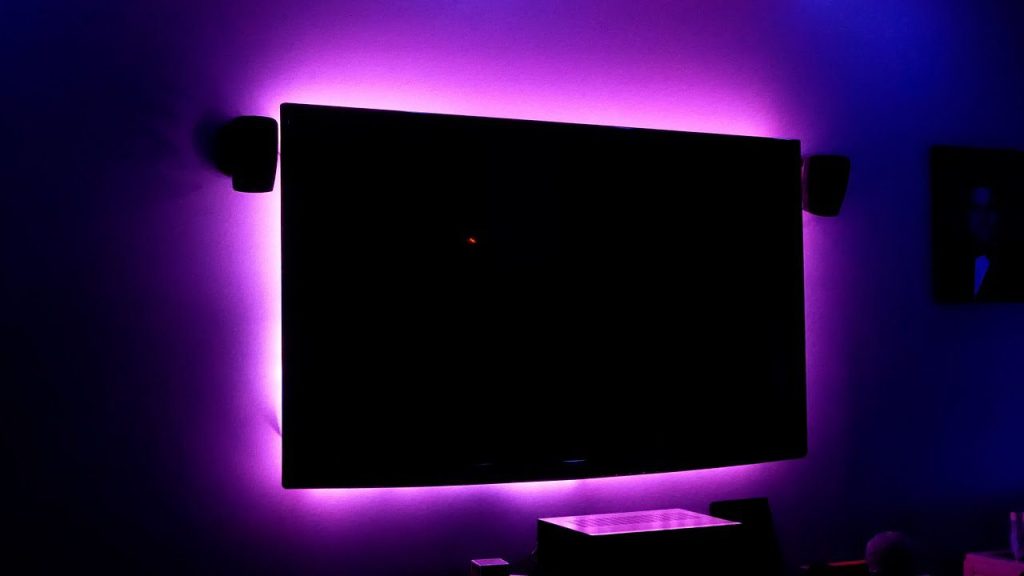 Improve the vibe of your home with Philips Hue LEDs – By U Do It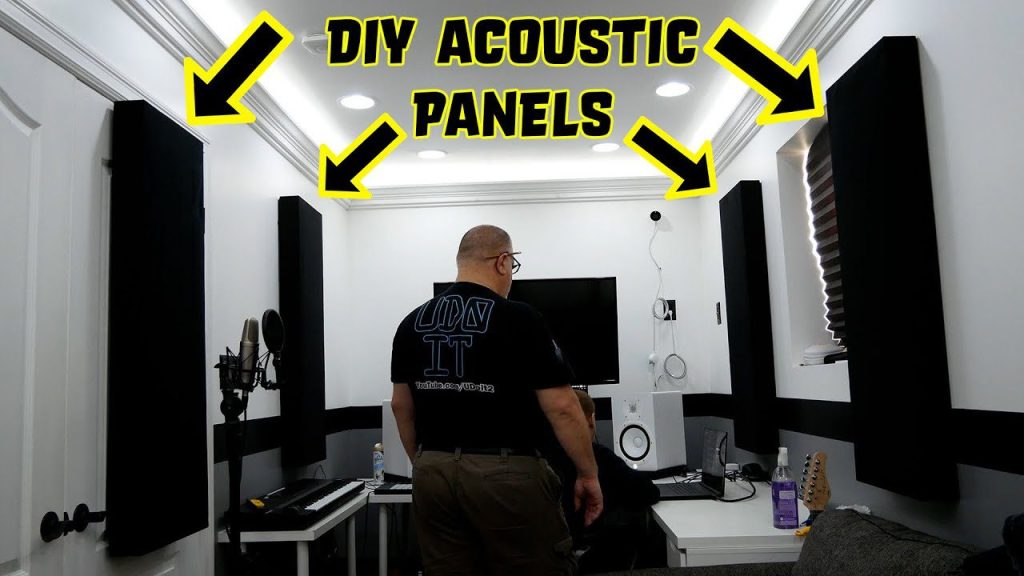 DIY Acoustic Panels for Better Sound Treatment – By U Do It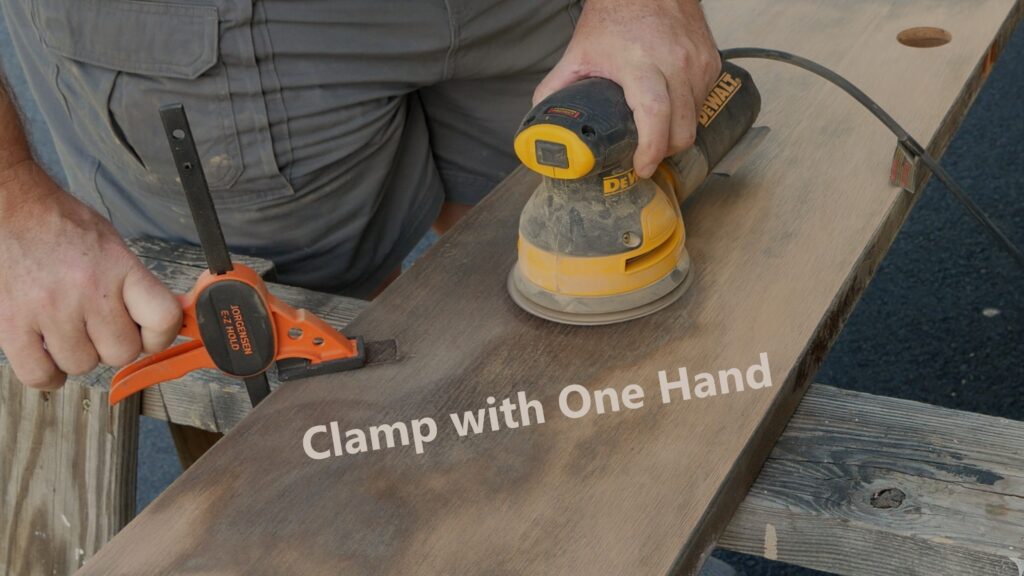 Jorgensen E-Z Hold clamp is quick and easy to use – By U Do It
Music of the Day
Follow U Do It on Social Media
What's next? Check out About U Do It, History of U Do It, and Mrs U Do It to learn even more about U Do It.