Mrs U Do It™ is a fitness trainer lifestyle brand based in Mickleton, NJ. She is married to U Do It, together they have a son Johnny and she is a teacher. As a teacher Mrs U Do It loves her two summer months off during the year and really enjoys spending that time at the Jersey Shore thanks to her family and friends.

You may catch Mrs U Do It wearing her merch while out and about. Be sure to yell out "Mrs U Do It Get Out There And Do It!"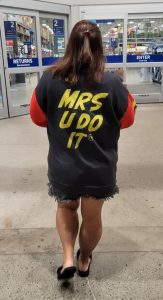 U Do It
Mrs U Do It caught the eye of U Do It when she walked in front of him freshman year at Paulsboro High School in 1985 in Mrs. Dentino's English class. U Do It pursued her for quite a while and eventually began dating. Though there were a few times they broke apart from one another, they engaged and later married in 1997 At St. Peter's Episcopal Church in Clarksboro, NJ. Their son Johnny was born on July 18, 2001. Recently, they celebrated their 25 year wedding anniversary.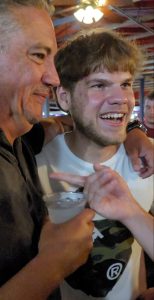 Johnny with John Volpe at Keenans in North Wildwood on his 21st birthday.
Education and Profession
Mrs U Do It earned her Bachelor's Degree of Education. She also earned a Bachelor's Degree of Communications. Both were completed at Glassboro State College / Rowan University. And she received four diplomas. Two diplomas with Glassboro State College (one for each degree). And two diplomas with Rowan University (one for each degree) due to the name change. Putting her communication degree to work, she worked for a local lab equipment and supplies distributor. While there for several years in their marketing department she was responsible for their product catalog. She also worked as a self-employed day-care owner where she watched friends children after their son Johnny was born. She began substitute teaching while Johnny was in school. Eventually, she was offered employment as a full-time teacher.
Vacation Time
Her grandparents owned a home in Sea Isle City where her parents would take her for summer trips. Since her grandparents passed on, the estate sold their home and there was a period where we didn't visit the shore for years. Then she started visiting the Wildwoods with her husband U Do It and their son Disteff frequently. Driving back and forth became a chore so they purchased a home in Wildwood. Now Mrs U Do It is able to enjoy the beaches of Wildwoods every summer since 2012.
Hobbies and Activities
Mrs U Do It has always been active. She has really amped up her activities when she started running. She became so active with running that she competed in the Philadelphia half Marathon and completed it with great joy. After suffering ankle and knee injuries, even falling to the ground one day while running when her ankle gave out, she is determined to continue exercising. You'll see a post everyday she exercises. She goes to the gym nearly every day at Planet Fitness or The Edge Fitness Clubs and enjoys her energy drinks like Bang, C4 or Reign before her workout. Her say that she lives by is "Get out there and do it!" Even if it isn't her best day she gets out to the gym.
Mrs U Do It and U Do It enjoy spending time with family and friends, whether it's down the shore, at home or away on vacation.
Mrs U Do It enjoys watching Friends, Survivor, Big Brother and other reality TV shows on her down time. The Wizard of Oz, Grease and Twister are among her favorite movies.